Konfidence With a Capital "K", That's Why I Selekt Biotage
The new Biotage® Selekt Flash Purification System is a system you can use with Konfidence. Purification is a fundamental step in discovery research and, as pioneers of automated flash purification, Biotage® is your ideal partner. Our core philosophies of Quality, Reliability and Environmentalism are drawn from our Swedish heritage. Our smart and intuitive design comes from our knowledge of what our customers need each day. You can see why our customers have "Konfidence" with a capital " K" in our brand.When it comes to purification there are five reasons to Selekt Biotage®.
1. Inspired Productivity
Your efficiency is key for you and is of paramount importance for us. That is why we have designed a compact system with added flexibility in terms of column position and setting up the purification. Customers can choose their desired methodology and keep productivity high at the same time.
2. Finer Control
When performing challenging syntheses, you need results that are fast and reliable. Our new advanced flash purification system utilizes the most sophisticated technology to simplify even the most advanced chemistry.
3. Unbelievably Easy to Use
The Selekt system is flexible enough for both novices and experts, and our experience supports you every step of the way. A beautiful graphical user interface presented on a large touchscreen enables even the most complex tasks to become simplicity itself. We also brought in some colors to make it more fun, so you'll enjoy doing purifications with us!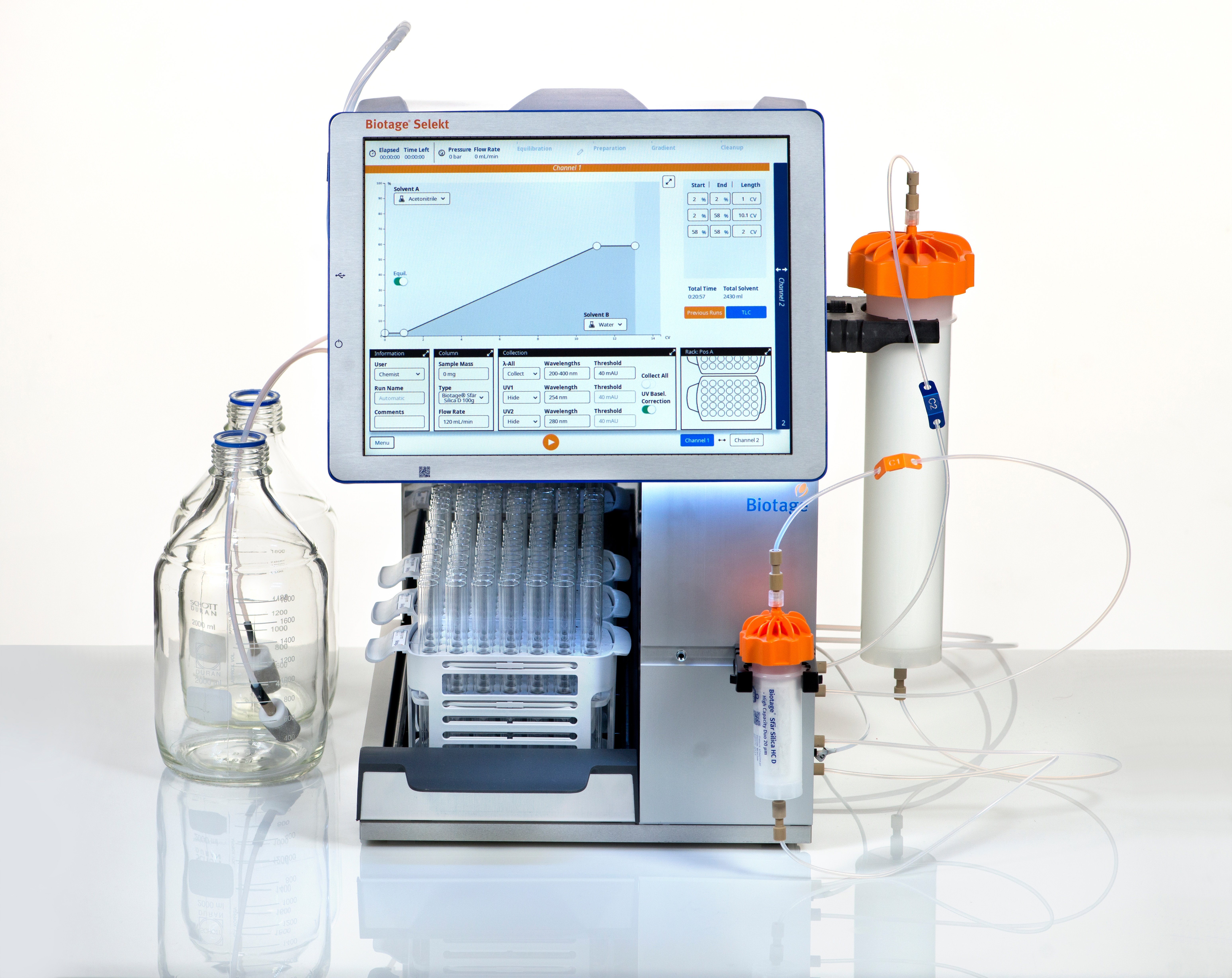 4. Amazing Reliability
Not only do your results have to be reliable, but your instruments too! We take care of everything to remove every hassle from your daily job and let you focus on what is really important for you.
You can rely on Biotage® in every aspect as your preferred partner in Flash purification.
5. The Greenest System
Our new purification system enables you to reduce waste to a minimum if you combine Selekt with our new Biotage® Sfär columns. So why not give them a try?