Automated sample prep helps your lab to run more smoothly. Sample prep is often seen as a painful process that is time-consuming, laborious, complex, error-prone, and costly. But efficient sample prep is a critical step that is required to supply high performance analytical equipment with the best possible input to routinely generate high quality data output.
In this article we will look into how automation of sample prep can ease the pain of manual procedures, and also improve sample quality, throughput, and ultimately data quality.
Increased throughput and efficiency
Technological developments have led to significant reductions in analytical run times such that sample preparation can be the most time-consuming part of an assay and a major bottleneck. Automation can eliminate this bottleneck, as shown in a recent study on solid-phase extraction that indicated a 33 % reduction in processing time for 96 samples compared to the equivalent manual process (1). This automation increases throughput and also frees up skilled analysts to spend time on more important tasks such as data analysis.
High analyte recovery
Sensitive analysis depends on providing analytical instrumentation with the right amount of analyte in a minimum of interfering background. The combination of an optimized sample prep workflow with automation can deliver an analyte recovery of >90%. And the combination of automation and well-trained staff will ensure robust performance.
Improved data quality and error reduction
Manual sample prep workflows can be complex and comprise a number of repetitive, boring tasks that can lead to operator error, sample variation, and the risk of re-runs. Unlike people, automation systems are perfect for performing the same task over and over again, and will reduce error and improve precision (Fig. 1). Added to that, recoveries are likely to be greater when using an automated system.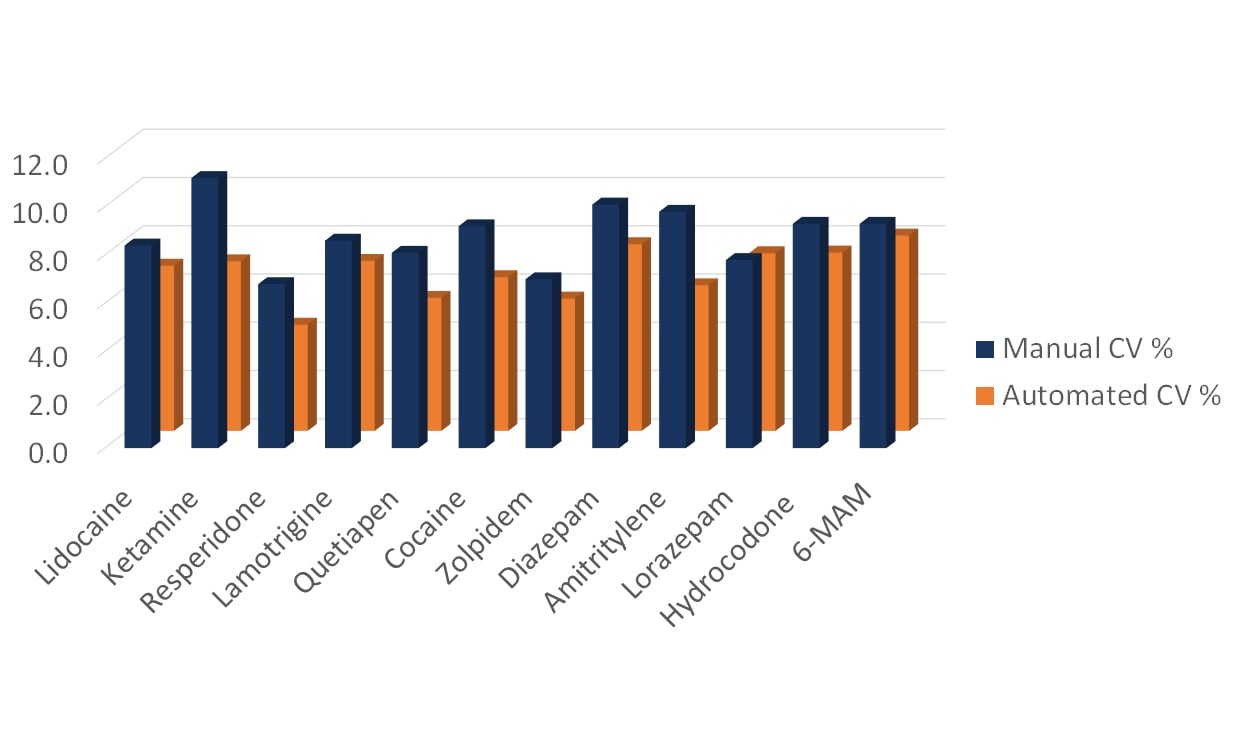 Increasing throughput and reducing hands-on time will reduce the cost of processing samples. Not only that, using the right automation system will help to make the most efficient use of consumables such as pipette tips to reduce costs even further. Reduced cost per sample.
What to consider when automating a sample prep workflow
The variation in sample prep workflows is enormous, covering a range of sample types, from solids to biofluids, and involving extraction methods such as Supported Liquid Extraction (SLE), Solid Phase Extraction (SPE), Phospholipid Depletion (PLD) and Protein Precipitation (PPT). There are, however, a number of key factors to consider in automation, whatever your chosen extraction method.
To begin with, are you automating a single process, or do you need some flexibility? For example, do you need to automate SPE, SLE and PPT, or just a single method or application? And do you need flexibility in handling different formats, such as 96-well plates and SPE columns, and even reformat from tubes to well plates? There is also the question of whether you want to automate method development, which requires more flexibility than routine sample prep.
The specific nature of the samples will also guide the choice of sample prep workflow and automation solution. This includes considering sample type, volume, matrix, interfering substances, and the risks and consequences of carryover or cross-contamination. Are the samples or reagents hazardous to health? Is containment of solvent vapors or potential bloodborne pathogens in samples required? It is also important to consider which types of solvents and reagents are used in the workflow. And don't forget evaporation. This could be an issue to be avoided, or a necessary step in your workflow.
Automation is certainly a given way to increase throughput, but the question is, how many samples do you want to process per day or week? And also who will be operating the system – what do you need in terms of training and ease of use?
Automation in your lab environment
Space is always at a premium, so instrument footprint can be a critical factor. And then there is the question of integrated solutions vs. standalone solutions. Integrated solutions eliminate user intervention once samples are loaded, but are more complex to maintain and also lock up the whole workflow if one component fails. On the other hand, standalone sample prep does not tie up analytical instrumentation and provides flexibility in sample prep methods, sample types and also placement in the lab, for example in a fume hood.
Software and user interfaces can make the difference between a speedy set up and a laborious validation. A good software and user interface requires minimal training to get the system up and running. Some automation platforms require system experts on site, which is an important aspect in maximizing productivity and getting the most from your investment.
Fitting automated sample prep into a GLP/regulated environment
Automating sample prep in the right way will certainly boost the efficient generation of high quality data from your samples, but keeping track of everything is crucial. Good Laboratory Practices (GLP) guides the way in ensuring routine lab operations are monitored and documented. GLP helps to ensure that the quality and integrity of data meet guidelines laid out by regulatory organization such as the U.S. Food and Drug Administration (FDA) or multinational organizations such as The Organization for Economic Co-operation and Development (OECD). Following GLP can well be a prerequisite for your lab operations, which means that at a minimum, your chosen automated sample prep system must have software that includes:
-User Account Management

-Data Security and Integrity

-Integrated System Network

-Audit Trail Management
A sample prep automation solution to meet your needs in the GLP lab
Automating sample prep can have significant benefits in improved laboratory efficiency, increased data quality, and reduced cost per sample. Finding the right solution can be a challenge. To meet your needs, Biotage has developed Extrahera™ – a powerful, user-friendly automation system for methods based on SLE, SPE, PLD, and PPT. This system has now been complemented with optional GLP software.
References
Youssef M. et al., (2019). Low cost entry for automation in laboratory settings. Poster P211 presented at the Society of Forensic Toxicology (SOFT), San Antonio, TX, USA.