Sometimes we find ourselves having to make decisions fast, and act even faster - especially in situations like the one we live in today, where there is a high degree of uncertainty. In this kind of situation it is ideal to find a partner that is willing to share the risk with us, so that the long-term consequences of a decision made in times of uncertainty are not going to make us regret our choice when things get back to normal.
This is why we have a 5 year warranty for our Biotage® Selekt: we strive to build reliable systems, but we also know that sometimes the unexpected happens. We created the 5 year warranty so you do not have to worry if you made the right choice, for the next 5 years you are covered.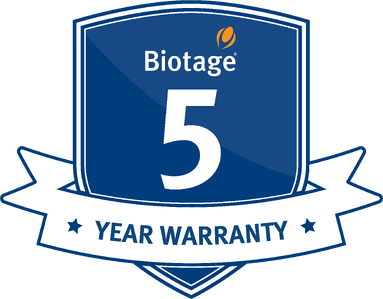 When we asked them what they thought about our products, we got great input on how our instruments could be improved. We got a consistent feedback that what distinguishes us from other manufacturers is the well-known reliability of our instruments and the great service we provide across the globe. We are a global organization, and our service offer and quality standard is the same worldwide. Biotage® Selekt was launched on October 1st 2018, but the design of the system started long before that and, as usual, when we start designing a new product, it started by asking for input and feedback from our users. They are the ones who know our products the best, the ones who use them every day to achieve their goals and to get their products - products that are sometimes aimed at saving lives. For that reason these instruments need to be reliable and to provide consistent results. They need to be fast and precise and allow our users to get quickly where they want to be, at the forefront of research, looking for the next new discovery, or the next step in their research project.
We actually believe reliability has an impact in accelerating drug discovery and that is why we aim to be trustworthy partners for our customers, both when things move forward smoothly and when the surrounding conditions become more challenging. That is why we follow up on customer satisfaction after each service intervention. Users evaluate the service they receive, the product in general, and can also add a comment. Here are some things our customers say of us:
"Using the Isolera plus the columns allows us to have super clean results on our high- resolution mass-spec and NMR spectra and, ultimately, confidence in our assay results. […]Biotage instruments are indispensable in the lab towards this end. Using the entire workflow, we're able to do things more efficiently." Dr. Justin Anglin, Baylor College of Medicine Neurological Research Institute
"We didn't want to reinvent the wheel. I wanted to use the products that are created by the company that makes our equipment" - Dr. Aaron Muth from St. John's University
"If you have a project that requires you to do the same thing repeatedly, the Selekt increases productivity. There are fewer things that can go wrong by using it" - Dr. Robert Iafe, California State University
"We are very satisfied with it!" – Dr. Longhi on Biotage® Initiator & Alstra™
"We've had no problems with it since installation, even though many students from other laboratories also use it. I am completely satisfied with its robust design." – User Report: Initiator/ Gakushuin University
In the face of Covid-19, we are finding new ways to stay in contact with our customers. You can find more details on how to reach out to us at Biotage® 1-Point Support™ and a specific suggestion on how to deal with long-term system shutdown.